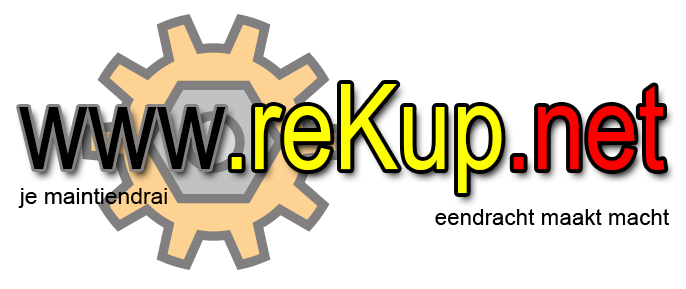 Welcome to www.reKup.net:
Your parts-finder for second-hand, reconditioned and new car-parts.
---
---
Search and find parts !
Everyone can request parts - simply and without obligation - via the form at all dismantling companies, parts shops, tire centers, clubs and specialized garages in Belgium, the Netherlands and beyond, known to me.
With over 1,001 contacts, www.reKup.net is your best chance to find a part!
Second-hand, overhauled or new.

This service is free.
You will be in direct contact by email with the companies that have parts available.
All agreements regarding price, collection, delivery, exchange and guarantee must be made mutually, without further intervention from www.reKup.net.
All parts suppliers and specialists can register and participate for free.
Mail to eXpert@Auto-Moto.Link for more info.
I am looking for sponsors and donors to support this service.
In exchange, a notorious SEO-web-link and the part requests first-hand in your mailbox!

Offering this service does not imply that www.reKup.net (Auto-Moto.Link) can be held responsible or liable for the actions of the participating companies and / or the applicants.
Your data will only be used to communicate information about your request. Fully in line with GDPR rules in the context of the legitimate interest.
In the event of abuse, fraud and / or stolen parts, it is best to contact the legal authorities.

Use the FORM to launch your request.
A few tips :
check your e-mail address carefully, in first instance this address will be used to reply

give a telephone or mobile number where you can be reached during office hours

describe the requested part as clearly as possible,
complete with all known reference numbers.
CHASSIS NUMBER or VIN (Vehicle Identification Number) can be crucial info!

optionally add 1 (detailed) photo of the car or part
---
www.reKup.net, on-line sinds 1999.
Under the impulse of Erwin Obourdin, www.reKup.net has been a network of car dismantling companies, parts shops, clubs and specialized garages in Belgium and the surrounding area since 1999.
At the time on-line thanks to Jeroen Cats.
In 2015, the decision was made to split up into auto- and motorcycle-parts and the overarching Auto-Moto.Link was established. The parts websites www.reKup.net and www.motocyclette.World are now technically supported by JemaSoft in Heffen (B).
---
More than 1,001 contacts, divided into (free) Sympathizers,
paying Donors and VIP/Sponsors.
You can recognize car-clubs by the red C .
---
CONTACT www.reKup.net :
Parts-requests only via the FORM !
Erwin Obourdin, free-lance cyBer-reKup-eXpert @ Auto-Moto.Link.
Trained marketeer, dismantler specialist by experience and Internaut-fanatic.
You can e-mail comments and / or suggestions to eXpert@Auto-Moto.Link .
(* Auto-Moto.Link * BTW BE 0631 705 867 *)
---